Please note: This is an older article that was published over 4 years ago. It may contain outdated information, so please double-check any dates, hours, or other information before confirming your plans. Thank you!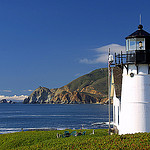 Montara Light House
Montara Light House hostel, 25 miles south of San Francisco, is both an idyllic retreat and a convenient base for exploring nearby Half Moon Bay. They also offer easy access to a wide range of outdoor recreation, including hiking, biking, swimming, surfing, kayaking, windsurfing, horseback riding, whale watching, or just relaxing on the beach.
"Originally established in 1875 as a fog signal station after several ships ran ashore in the late 1860s, this historic lighthouse is still an operating aid-to-navigation maintained by the U.S. Coast Guard. The hostel has been in operation since 1980 through a partnership with California State Parks.
"Guests are accommodated in both shared and private rooms in former Coast Guard quarters and the historic fog signal building. Enjoy cozy lounges, a secluded beach cove with tide pools, and landscaped native plant gardens. Amenities include DSL Internet and free WiFi, on-site laundry, free parking, and an espresso bar."

Pigeon Point Lighthouse Hostel
"Fifty miles south of San Francisco, Pigeon Point Lighthouse is perched on a cliff on the central California coast, the 115-foot Pigeon Point Lighthouse has guided mariners since 1872. The hostel offers comfortable, affordable lodgings in four houses set just beside the lighthouse. Guests enjoy cozy indoor lounges, fully equipped kitchens, cove beaches, tide pools, and an oceanfront boardwalk. Amenities include satellite Internet, free WiFi, and free parking.
"On weekends, free history walks guided by State Parks docents are available on the hostel grounds. The Pigeon Point Lighthouse Hostel is also a popular spot for whale watching, and a convenient base for exploring nearby Coastside communities as well as the ancient redwood forests at Butano State Park, the bird sanctuary of Pescadero Marsh, and Año Nuevo State Reserve, breeding site of northern elephant seals."
Both hostel locations have group facilities and special rates for 8 or more guests, offering both shared, dormitory-style rooms and private rooms. They also have furnished common rooms and rec rooms where guests can unwind and socialize plus fully equipped kitchens and dining rooms where groups can prepare meals.
Find things to do, shopping, dining &more at VisitHalfMoonBay.org.